In March 2020, the Victoria Arts Council launched a new digital magazine as a way for our members to stay connected while practicing social distancing.

Below are links to current and past issues of UNTIL…
___________________________________________________
Issue 9: Queer Island, with Guest-Editor David Geiss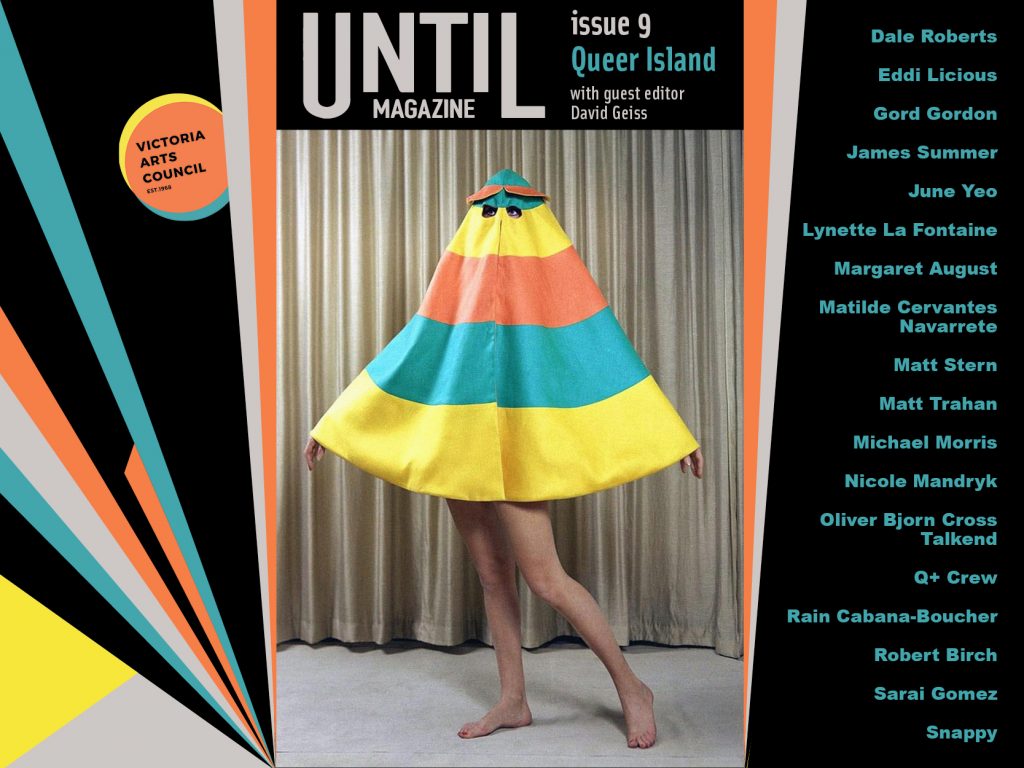 DOWNLOAD AND SHARE ISSUE 9 NOW!
______________________________________________________
Issue 8: Relationships, with Guest-Editor Lorilee Wastasecoot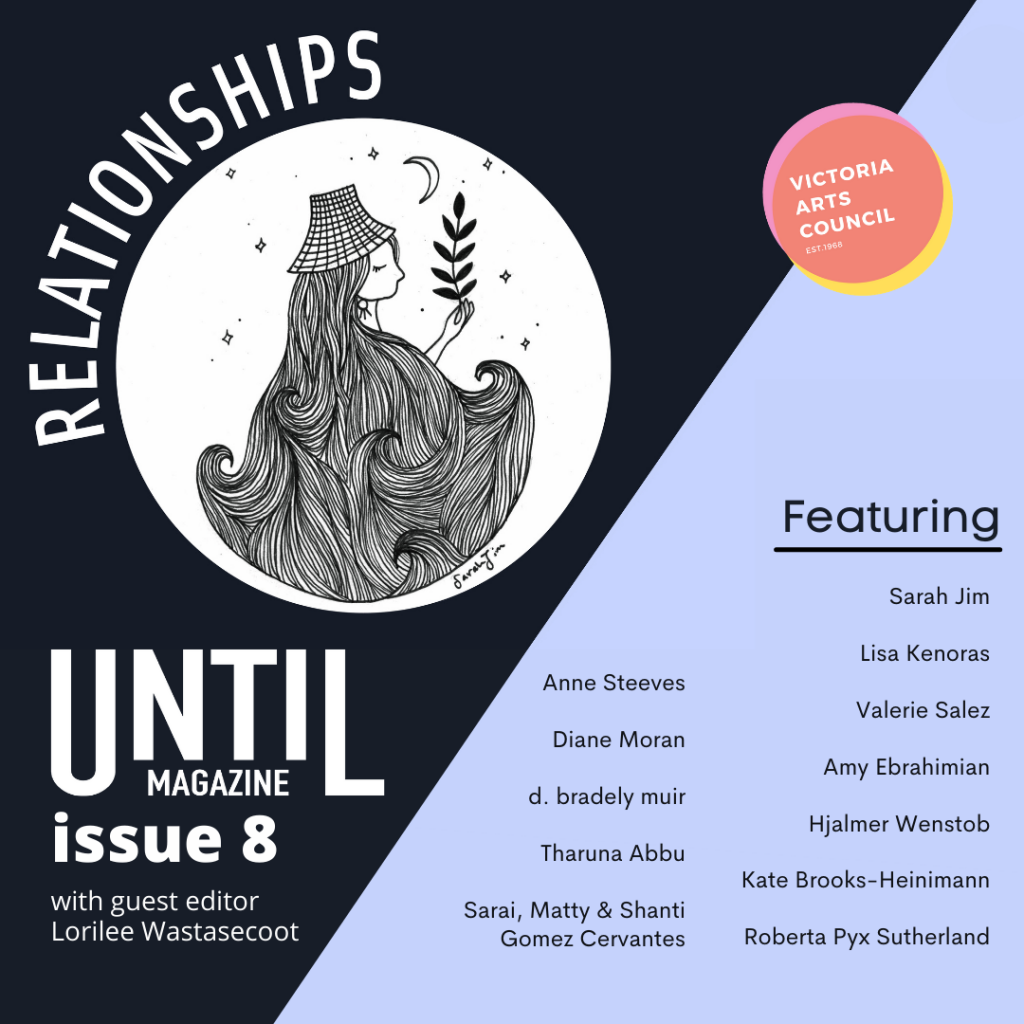 DOWNLOAD AND SHARE ISSUE 8 NOW!
____________________________________________________________
ISSUE 7: THE PREQUEL, with Guest-Editor Kemi Craig
Release date: November 2020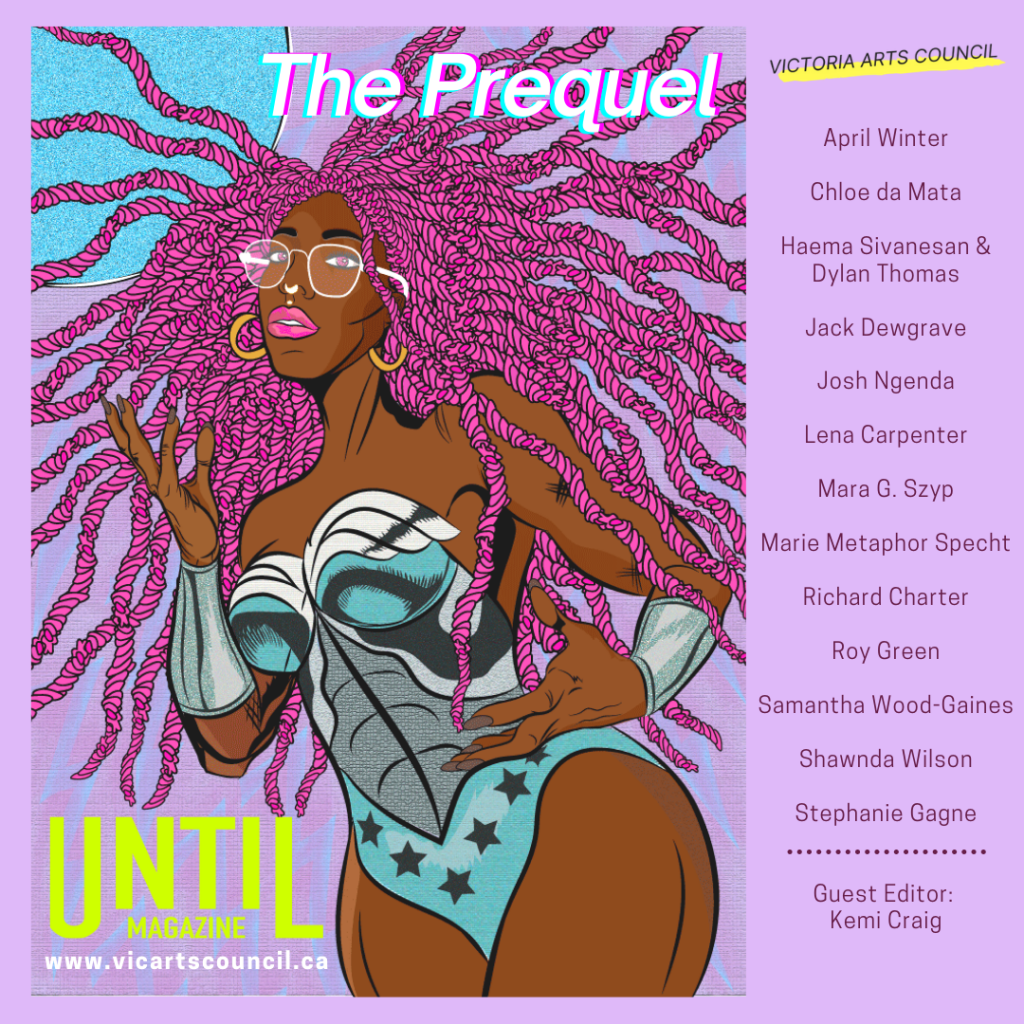 With the return of our digital publication, UNTIL, we're taking stock of the past six months since we initiated this project… of course it's a different world now. And with this revamped magazine, we look to play with time and space as a way of fumbling forward to what might (or should) happen next.
The Victoria Arts Council is proud to present the latest issue of our digital magazine, which "borrows heavily from speculative approaches to franchises, but also the possibilities of futurisms in its multifaceted forms."
While curating this issue, we asked the community a number questions: What came before this? How does a deep dive into under-acknowledged histories allow for a better understanding of how to be now as well as how to be better for the future? Where do the lines of experience blur into what is felt, what is knowable, and what is needed? How does this location of an Island on which we find ourselves reinforce the possibilities of where we might end up next? Will your work be a re-imaging of this time and place? Perhaps you are an echo of cells and actions of the past millennia?
This issue presents a number of talented artists, writers and thinkers whose work engages with these questions and more.
Download and share issue 7 of UNTIL… NOW
______________________________________________________
DOWNLOAD & SHARE PAST ISSUES OF UNTIL… NOW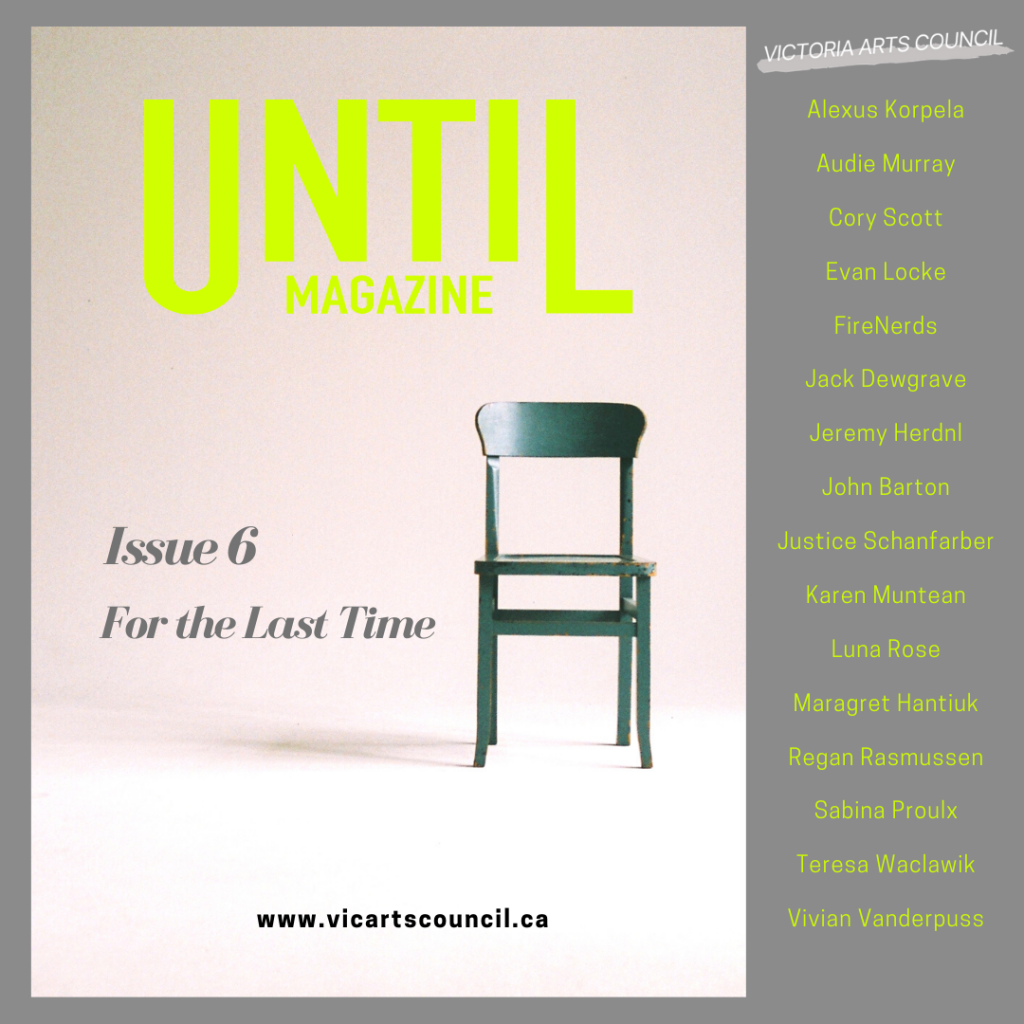 ______________________________________________________________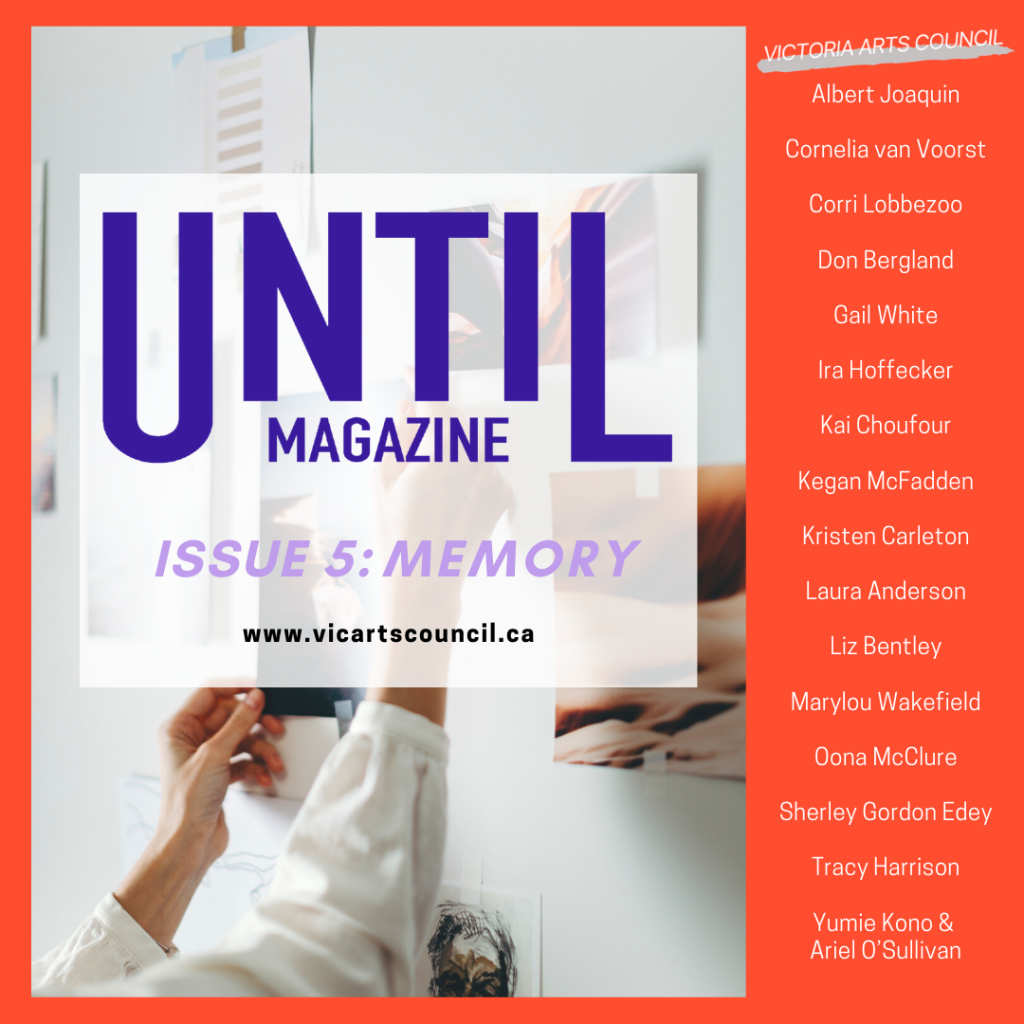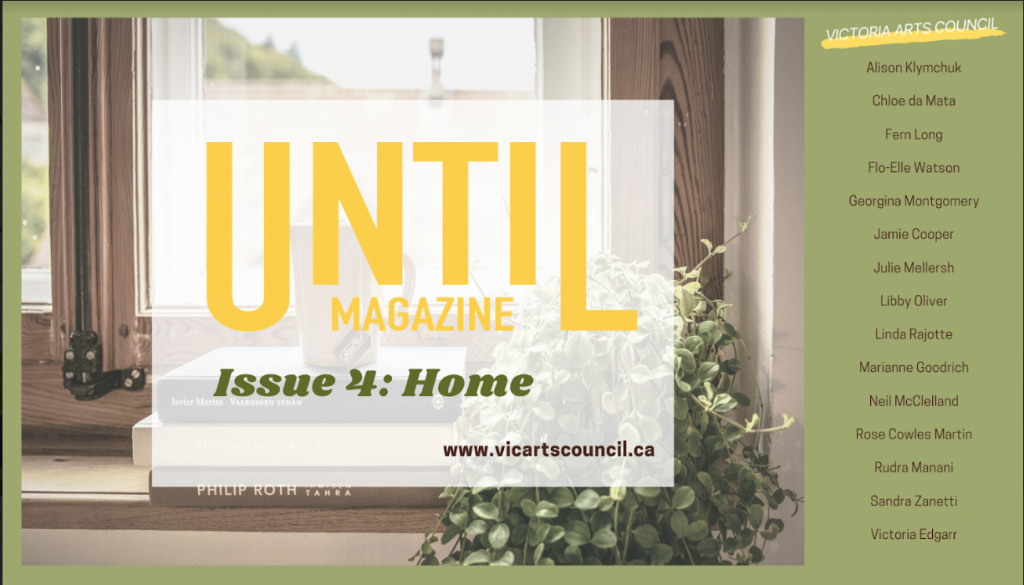 UNTIL Issue Four: Home features contributions of visual, literary, and performing art by VAC members on the topic of what 'home' means and how our understanding of home has been reinforced, altered, or subject to various interpretations and permutations since the COVID-19 pandemic emerged.
DOWNLOAD AND SHARE ISSUE 4 OF UNTIL… NOW!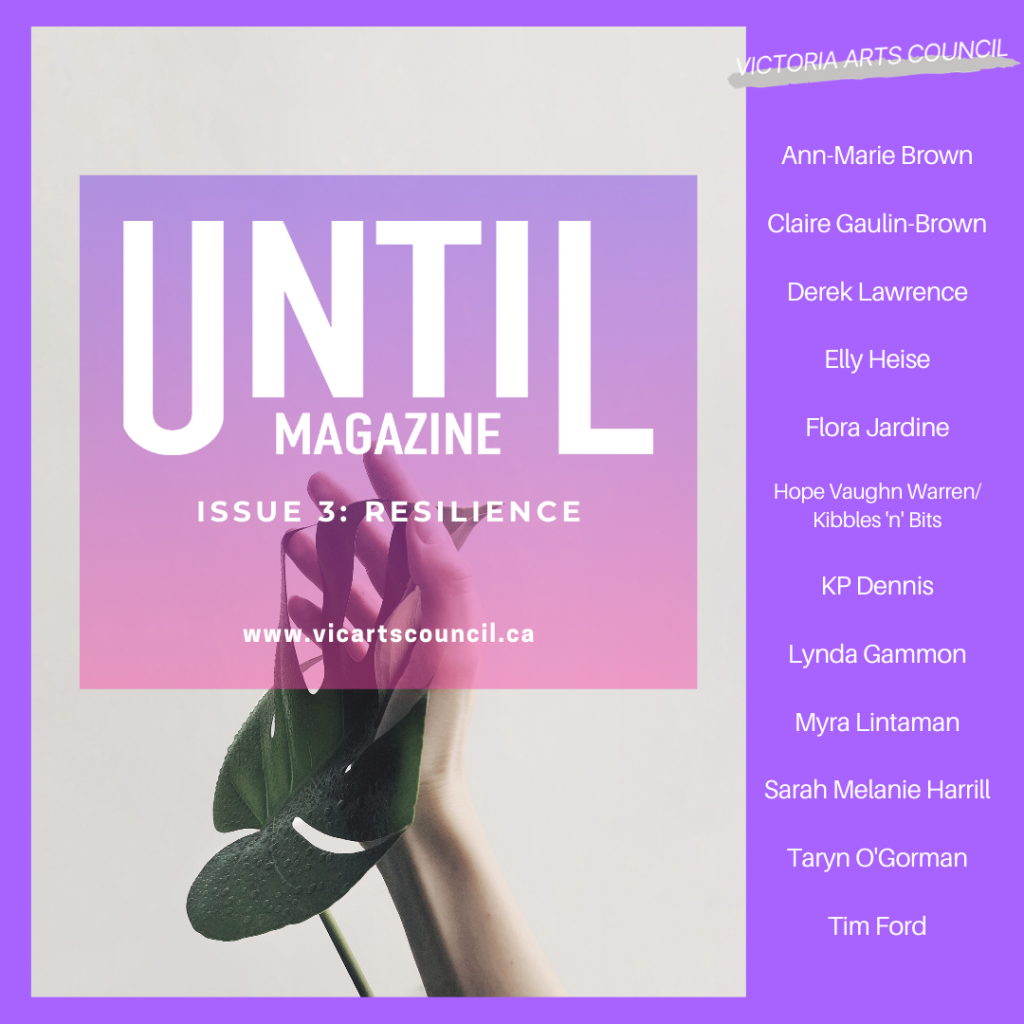 ISSUE THREE OF UNTIL … is now live:
UNTIL Issue Three: Resilience features contributions of visual, literary, and performing art by VAC members. Issue 3 also includes the 2nd installment of our Poetry in Public project, featuring the poem What to do when the world wants you dead, by past Youth Poet Laureate for the City of Victoria, KP Dennis.
DOWNLOAD AND SHARE ISSUE THREE OF UNTIL NOW
PREVIOUS ISSUES OF UNTIL MAGAZINE
ISSUE TWO OF UNTIL … is now live: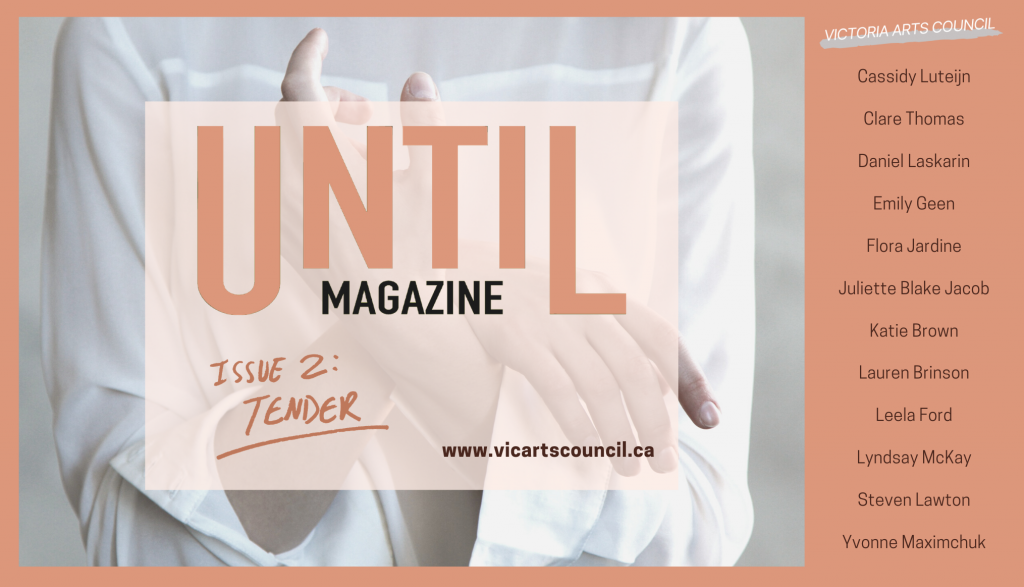 For the second issue of UNTIL…, we invited local artists to explore what being tender means to them, and whether they have been able to preserve that tender spot in their heart when life seems harsh in a time like this. Exceeding all expectations, we received such a wide variety of responses that challenged and broadened our preexistent understanding of the theme.
DOWNLOAD AND SHARE ISSUE TWO OF UNTIL NOW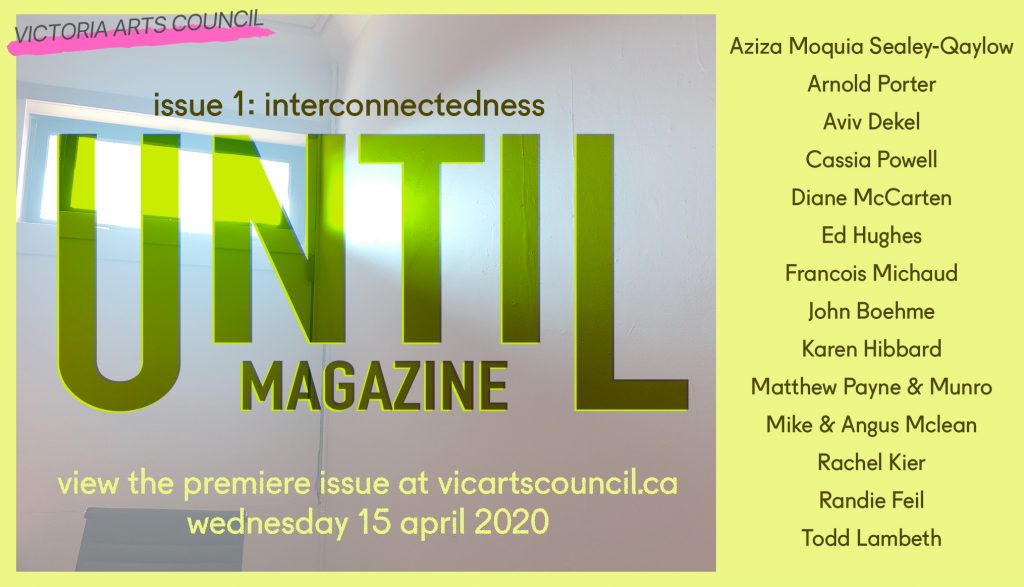 The first issue's theme is Interconnected. How do we nurture and sustain meaningful relationships during a period of time when we cannot physically interact? In what ways can we support one another? What role does art play in defining your "new normal?" How do we sustain our individual practices when all we want to do is be among our peers?

DOWNLOAD AND SHARE ISSUE ONE OF UNTIL NOW