ON NOW AT 1800 STORE STREET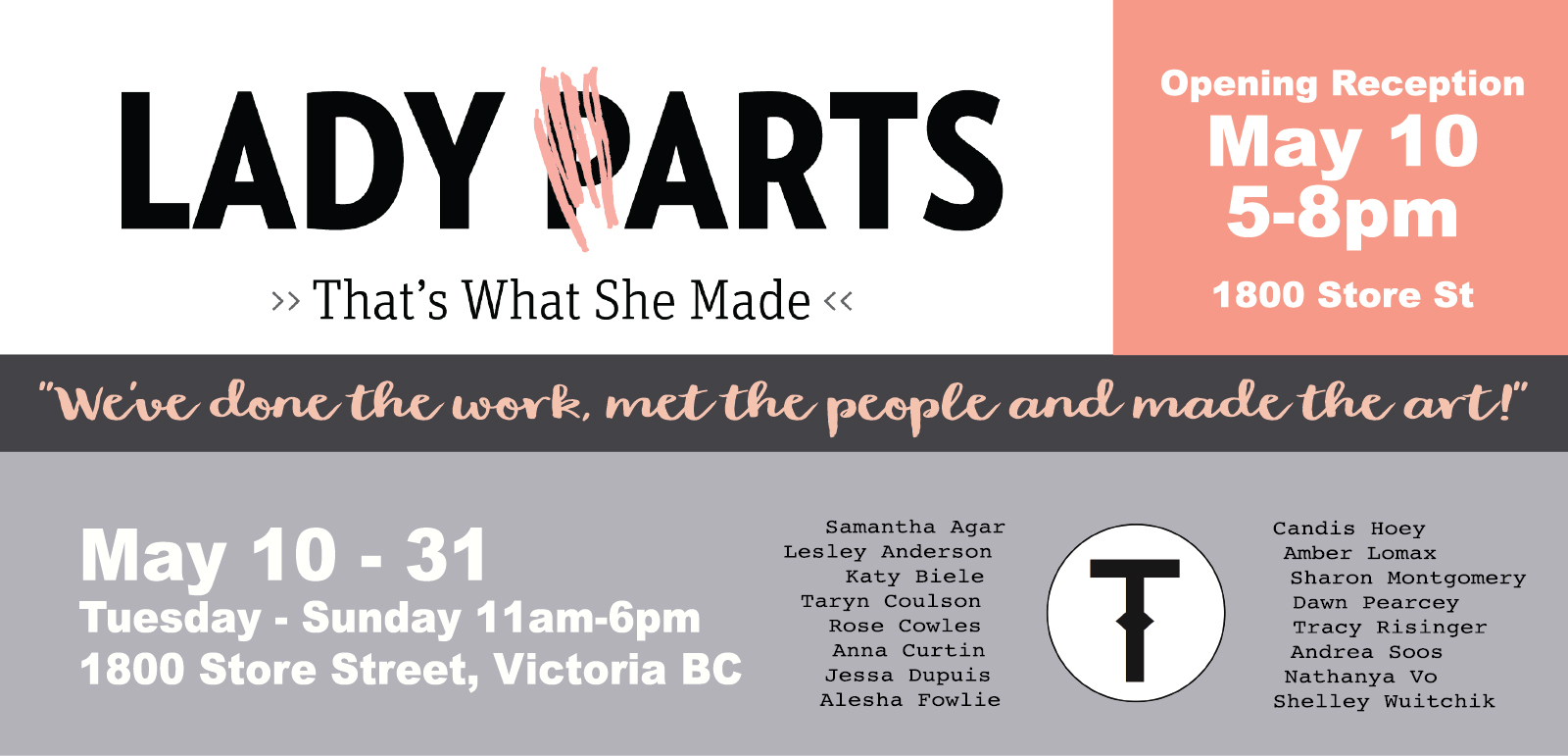 LADY PARTS: A group exhibit by the Thrive Art Collective
Lady Parts, a contemporary art exhibition will be held at the Victoria Arts Council Head Quarters from May 10 – May 31 with an opening reception May 10 from 5pm – 8pm. Featuring sixteen talented local artists this new exhibition seeks to showcase the work of the Victoria members of the all-female Thrive Art Studio Group.
Originally started in Vancouver, THRIVE Mastermind is a community of local and online artist groups who believe that "thriving artists must make art, meet the people and do the work". Gender inequality in the arts has been highlighted again and again over recent months with many major art museums re-visiting their collections and starting to address this imbalance. The Thrive Network provides a powerful platform for female artists to connect, share their experiences and raise each other up through community, in a non-competitive environment.
The artists featured in the show attended monthly group meetings for one year and united to support each other, share knowledge, humour and give accountability in their art practices.
"There is a vast wealth of knowledge and insight between the artists. Watching and learning from each other's progress was truly inspiring. Bringing this show together we hope to inspire and share the richness of creativity from female artists at all stages of life and art process." Amber Lomax, Artist and Event Participant
Free and open to the public, Lady Parts is the group's first show together – a celebration of the art and camaraderie that brought them 'to the table' over the past year.
Featured artists include: Samantha Agar | Lesley Anderson | Katy Biele | Taryn Coulson | Rose Cowles | Anna Curtin | Jessa Dupuis | Alesha Fowlie | Candis Hoey | Amber Lomax | Sharon Montgomery | Dawn Pearcey | Tracy Risinger | Andrea Soos | Nathanya Vo | Shelley Wuitchik
Exhibition hours: Tues-Sun |11 AM to 6PM