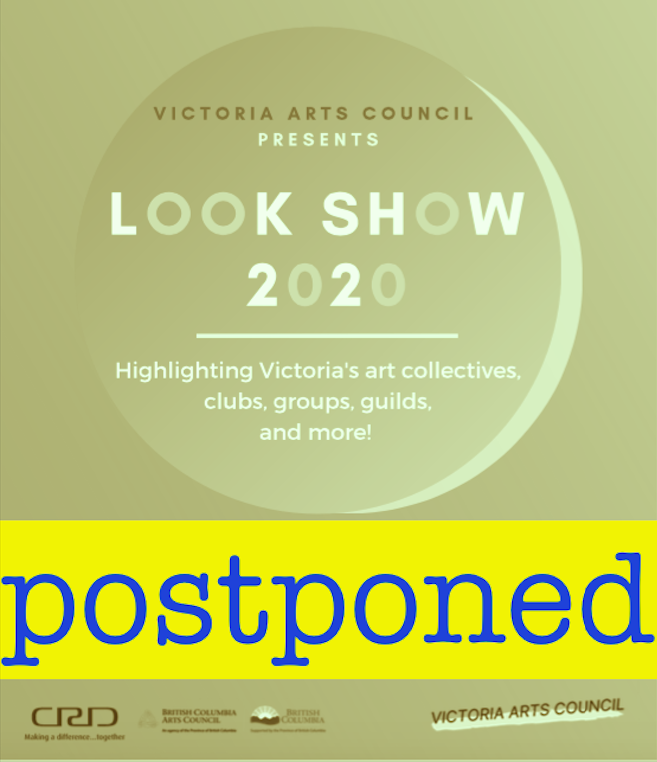 LOOK SHOW 2020
The annual LOOK show will take place Saturday 09 May through Sunday 31 May 2020 at a brand new venue. This special edition of LOOK will highlight the various art clubs, collectives, guilds, and groups that make Victoria such a unique artistic centre. Groups participating in LOOK2020 will have to register as Non-Profit Community Groups ($85.00 Membership), which will allow your members to submit 1 artwork per individual artist to be included in the show ($25.00 each). Unaffiliated / Individual VAC Members can submit up to 3 artworks each ($25.00 per work).
EXHIBITION: Saturday 09 May – Sunday 31 May 2020 | 10am to 6pm daily
ART INTAKE:  Sunday 3 May from 12:00PM-3:00PM and Monday 4 May from 10:00AM-1:00PM at LOCATION TBC April 2020
[all art must be accompanied by a completed submission form with payment in advance or at the time of intake]
OVER $1000 IN PRIZES!
OPENING RECEPTION: Saturday 9 May from 1:00PM-5:00PM
Art Pick Up: Sunday, 31 May from 5-7PM.
[no late pick-ups]
Please collect your works from the LOOK SHOW location.
**Any unclaimed work is not the responsibility of the VAC**
This non-juried exhibition promotes work in all media from across our creative community; experienced and emerging artists alike are welcome and encouraged to participate. This yearly exhibition is widely recognized as one of Victoria's premier art shows because of its inclusive community-based approach, with audiences in the thousands. The VAC is excited to highlight the numerous local art groups dedicated to fostering the production of art in Victoria as part of LOOK 2020, alongside individual submissions.
LOOK 2020 DETAILS:
All pieces must be labelled twice (on the back and the front), wired, and ready to hang
2-D pieces up to 3′ x 6′.
3-D pieces must be under 8ft tall.
Literary: One submission may consist of up to 3 pages, each page in the formatted in the artist's preference to a maximum of 8″x 10″ per page.  We ask that your submission be printed on a thicker cardstock in order to be exhibited appropriately. Your 3 pages may consist of one literary work or up to 3 literary works (i.e. you may submit a two page work and a one page work for a total of 3 pages, or you may submit one work which is 3 pages in length or 3 works each one page in length).  The cost of submission is $5 for members and $10 for non-members. You may enter a literary submission in addition to another category submission.
Installation:  We will accept installation works as individual entries at $50.  The size and scope of installation works must be discussed with staff prior to set-up to ensure ample space for display.
Large scale works will be accepted on a first come first serve basis due to limited venue space. Submit early to avoid disappointment.
Each piece must be designated by category (Painting, Photography, Mixed Media, Printmaking, Drawing, 3-D, Ceramic, Craft, Video, Performance, Literary and Installation). Please note: The category you choose will direct your artworks placement for award selection.
Artists choose the category for each piece submitted.
Artists choose the retail (sale) price of their work including all applicable taxes.  Your work does not have to be for sale to be included in the exhibition. Any work sold during LOOK2020 will remain on view until the close of the show.
Up to three works accepted from each artist, across categories; excluding "Group" Entries (limit of 1 piece per artist in designated group).
All pieces sold are subject to a 25% commission fee.
$25 per work submitted for VAC members, $40 per work submitted for non-members.
AWARDS / CASH PRIZES:
$500 in YOUTH PRIZES! [Sponsored by the Oak Bay Community Artists Society]
$100 BEST IN SHOW [Individual and Group]
$  50 PER CATEGORY
Submission information:
Please fill in the online application form.
You may choose to pay  your entry fees online or you may pay by cash, cheque or credit at the time you drop off your work.  It is of benefit to fill in your online application form prior to art intake as your labels will be created from your application and you will be registered and guaranteed a spot in the show.
All participating artists are encouraged to volunteer with the show (intake, hanging, opening reception, sitting the show, strike, and cleanup)
Participating groups are encouraged to contact VAC to arrange a time to install your members' work as well promote your group towards future members.

Please email volunteer@vicartscouncil.ca if you are able to volunteer your time with any of these tasks.